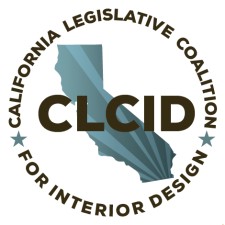 The California Legislative Coalition for Interior Design reports on Senate Bill 1132.
Sacramento, CA, November 23, 2016 (Newswire.com) - On Wednesday 28th September, 2016, Senate Bill 1132 (Architects: Architects-in-Training title) was vetoed by Governor Brown after passing the first hearing and State Assembly and being approved by State Legislature earlier this year. In a short but succinct letter to the members of the California State Senate, Governor Brown declined to sign the bill explaining that the title of 'Architect' should be reserved for those who have met the requirement for licensing, citing previous Board decisions to uphold the use of a title by fully qualified individuals only.
Both the CLCID and CCIDC opposed this bill and submitted official letters to the Governor detailing their opposition, however it is likely that the opposition of the DCA was a strong influence on the bill being vetoed. The opposition of the CLCID and CCIDC is founded on the basis that a 'frivolous' and meaningless title for those merely thinking of becoming architects, reflects poorly on the licensing and titling of any profession, including that of interior designers in California.
Trivializing the great effort and accomplishment that it is to be an Architect or certified Interior Designer in California directly contradicts the message and mission that CLCID and CCIDC have been campaigning and working for over the past 25 years. Maintaining the title of 'Architect' for qualified and licensed architects only helps to maintain clarity and transparency in licensing in California and boosts recognition and trust of licensed professionals including certified interior designers.
In a similar move, the cartel of IDCC, IIDA and ASID are likely planning to introduce a bill to use the title "Commercial Interior Designer" with a prefix such as "State Certified" or "State Licensed" next year. It is likely that a requirement for a state board to oversee the implementation of this title will be opposed by the CAB or DCA, meaning that this run for legislature will follow the same trajectory as AIACC's attempt at SB1132: Architect-in-Training.
CAB, CLCID and CCIDC have worked together and built relationships in the past around the mutual goals of drawing a clear and distinct line between the professions of interior design and architecture, while also developing the unique roles interior designers and architects have in design and construction settings.
In terms of future efforts, CLCID and CCIDC will continue to work towards broadening their statue, and support coming in from CALBO, CAB and potentially DCA provides a chance for progress. Developing and engaging the support of these varied groups into the future is truly imperative to ensuring the potential for progress and strong relationships.
A joint approach and a unified front will certainly be beneficial in terms of moving forward with change to the statute. CCIDC, CLCID, NKBA, IDS, IFDA and many others are currently united in supporting the proposed changes to the CCIDC statute. With dialogue and conversation open about the proposed changes and how to progress, CCIDC and CLCID now invite these organizations to engage in a discussion about the proposed changes, and encourage board members to reach out to these organizations where possible.
Source: California Legislative Coalition For Interior Design
Share: